Best Web Design Company in Santa Clarita - Best of 2021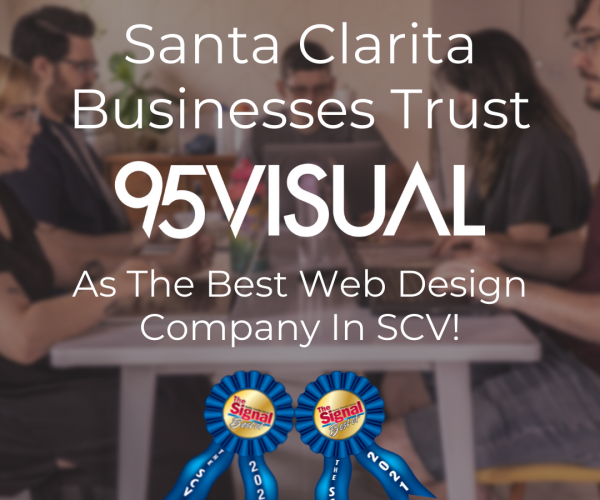 A letter from our Founder:

Thank you, Santa Clarita, for voting 95Visual the Best Web Design Company of 2021! 
Being a local business owner myself I know how important the local community is and after the crazy past year we have all had I want to say Thank You! Having grown up in Santa Clarita I am proud to serve the local businesses and happy to call SCV home. Thank you to the community and readers of The Signal for voting us #1 Web Design Company this year! Thank you for trusting 95Visual with your business and to be your trusted advisor when it comes to marketing your business.
This really means a lot to us and we really appreciate the support that we have received from the local community. This is why we are a member of local networking groups, highlight small local businesses that our team uses on social media, and utilize the services of local businesses as much as we can.
We are always striving to give back to the community of local businesses which is why we have created many resources over the years. From our Content Creation Guide to our Google My Business Guide our team is always trying to help the local business community with the resources that we build.
With this vision to see local businesses continue to grow and thrive we will continue to offer marketing analysis and full marketing plans (what we call a playbook) to local businesses. If you are a local business and want to take us up on our "playbook" offer use this link > Click Here to get a playbook.
Thank you again Santa Clarita!
Joshua Maddux
Founder - 95Visual