Strategic Content Solutions
People spend more time than ever in front of screens, which poses ongoing challenges to business owners. Businesses must have a unique, intuitively designed website AND drive consistent traffic to that website in a competitive landscape. To achieve long-term success and drive tangible results, you need a comprehensive approach that combines cutting-edge techniques with a results-driven process. 95Visual's team of experts is dedicated to crafting customized content and SEO solutions tailored to your unique needs, ensuring that your brand thrives in the ever-evolving online world. Discover the power of strategic solutions and embark on a journey towards unrivaled success. Take the first step today and revolutionize your online strategy with us.
Connect to Discuss Your Content Goals
Increase traffic and optimize your content to get measurable results. Book a discovery call with us today and find out how 95Visual can delivery results to grow your business.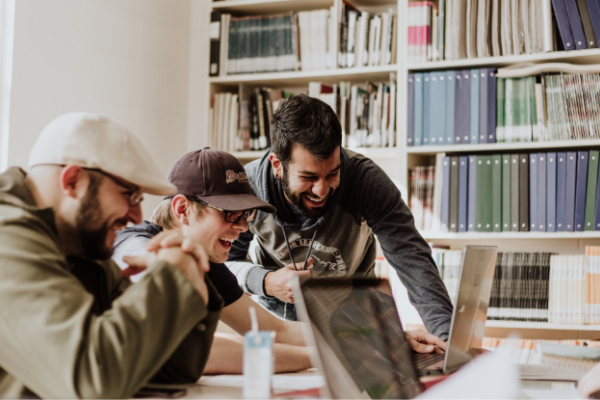 Search Engine Optimization
If you have a website but aren't experiencing the kind of traffic you were anticipating, it may be because you aren't doing any marketing for it. A website without marketing can still be useful but is not set up for success. Or maybe you do get some traffic and people are visiting your website, but you want to increase your leads and sales? For either scenario search engine optimization, or SEO, is a great opportunity to do all of these and grow your business.
Utilize Data and Keywords, Not Luck
Search Engine Optimization does not rely on chance but uses data and research to get your website in front of the right customers at the right time. We focus on keywords that people on the internet are already searching for and telling Google that your website is a helpful source for those users. We offer a number of SEO services for a variety of small business needs, from an SEO audit and keyword research to precisely formulated campaigns to utilize on-site and off-site SEO. Our SEO services are also beneficial for midsize businesses in Los Angeles and beyond.
Search Engine Optimization (SEO) is certainly one of the most sought-after digital marketing services available with us. Your website is one of your greatest tools to reach marketing and sales goals. If your site isn't getting the kind of traffic you anticipated, you may not be utilizing proper SEO strategies. Want to get your website to the top of relevant Google searches? Setting your site up with the right SEO tools could mean the difference between getting hundreds of visitors to your website each day or only getting a dozen.
From conducting SEO audits to formulating razor-sharp campaigns, our dedicated professionals employ an intelligent blend of on-site and off-site strategies to give your digital presence another high.
Several factors affect SEO results, including search engine algorithms and competition for your keywords. Algorithms are constantly changing and adjusting based on the information that enters the internet so it takes time to build not only credibility with search engines but to increase your value in the eyes of the algorithm. We recommend clients commit to a minimum of 3 months for SEO services
Yes, we can! An SEO audit is the first step of our SEO process. 
Your SEO Process with 95Visual
A successful search engine optimization strategy is about building a company's online presence. 95Visual's first step will be to audit your current website and SEO tactics to determine what you are currently doing right and what we need to do to improve upon your program. During our audit, we will look at analytics, keywords, indexing, and other ranking factors before creating your SEO strategy.
Elements We Examine During Your SEO Audit
The first step is to determine how your website is currently ranked. We utilize tools that provide detailed information as to what keywords are associated with your business and finding out how your website stacks up against your competition. Our team then sorts through all of that data to find the perfect keywords.
Accessibility and Indexing
For your website to be visible in search results, search engines actually have to be able to find it. They do this by crawling the web and looking for relevant and indexable content, such as link structures and HTML features. After determining that your website is being found by search engines and is being properly indexed, we can begin looking further to improve your ranking. The different factors that we will be looking at are appropriate content, keywords, and HTML markup to make sure that your source code is relevant to crawlers.
Competitive Analysis and Implementing Optimization
After the initial audit has been completed, we will run a competitive analysis to compare your content and other SEO factors against those of your competitors. This will help us come with a plan for deliverable items that we can then present to you and implement on your website to improve your rank and drive more visitors to your site. Ongoing tasks our team provides include:
Identifying and Tracking Goals
Onsite Optimization
Offsite Link Building
Conversion Rate Optimization
Monthly Reporting
Content Strategy Services
Implement Strategic Content on Your Website
Content guides your audience to what makes your business unique and demonstrates why you are their best choice. With businesses relying on written content to present themselves, strategy matters now, more than ever. The way you communicate with visitors, through content, can make or break all of your other digital efforts. At 95Visual we understand the value of strategically created content in order to build a successful and engaging website. Strategic content accounts for the creation, organization, and design of your web presence. All aspects of what makes your business should be communicated effectively and in your voice. If you haven't updated your website content since your last redesign, it's probably time to reevaluate and refresh. For many business owners, sitting down to write 5-10 pages of content falls to the end of the to-do list. Our job is to ensure the written content of your site reflects your brand identity and effectively resonates with your audience.
Our Content Strategy Process
Evaluate and Dive Deep - A content strategist begins by evaluating your current website content and researching other businesses in your industry. Next, you will meet for a deep dive interview to discuss the core elements of your business and the audience your content will reach.
Strategy Brief - With a deep understanding of your business and your audience, the content strategist then creates a strategy brief of the approach and strategy that will be used to create your content. Elements in the brief include details about the key audience and how to reach them, archetypes as a voice, and strategic content architecture.
First Draft - After approval on the strategy brief and ensuring the direction is correct, the first draft of content is written with the discussed elements in mind.
Feedback - You and your content strategist will review the first draft in a live feedback session. This style of review is successful in keeping your project timeline on track and ensures content does not delay the design timeline.
Final Drafts - The final draft of content is presented for approval and, if you are using our design services, your new content will be featured in all mockups going forward.