Custom Drupal Development
All small and medium-sized businesses need to create and strengthen their digital presence to attract prospective customers for their business. Partner with our highly recommended Drupal development company in Los Angeles for an enhanced digital experience for your website visitors.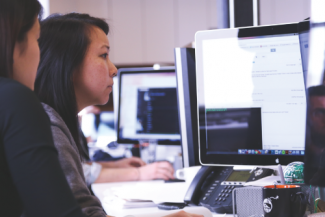 Our services are configured to improve productivity and the management of people, materials, and information online.
Some of the online services and programs are open source while others are paid for. Many open source applications are very helpful to businesses, Drupal being a prime example. Drupal is a resource for the development of modern web applications and websites which aspire to carry high-end and updated features.
Have Questions To Ask? Get The Answers From Our Ingenious Experts Call Us: (818) 495-5958
Or Click Here to Learn More
While it is open source, it requires a high level of expertise to adapt it to your business. This is where our custom Drupal development company comes into play.
For this application to be of use to your business, our team will work together with your company to develop a solution to fit your business's needs and processes. Through this collaborative effort, an effective and successful solution can be created.
Although Drupal is technologically advanced, it's very user-friendly. The fact that it is open source makes it quite attractive to small and medium-sized business. Apart from being a useful tool, it comes without licensing fees.
To make sure it fits your business, we will build the appropriate functions that are needed for the custom Drupal development project. This is to ensure that it's seamlessly adaptable to your business's needs and processes.
Unlike quite a good number of other open source applications of its kind, Drupal can be adapted to work with almost all systems built for small and medium-sized businesses. In addition, Drupal can be the backbone of the company website, providing countless features to the end user and your team.
These features can include: e-commerce, social sharing, multimedia, blogs, informative content, public portals, employee/project management and so much more. All these will need a content management system of some sort and this is where Drupal fits in nicely; it is an all-inclusive solution base for developing modern web applications/websites and managing the content that they carry.
Since we are a custom Drupal development company, we have amassed knowledge and market experience in our niche services. We know what it takes to build a great Drupal web application and we have the team to do it!
Among other things we also:
Develop your website from the ground up while coming up with the right solutions that your company will be in need of.
Provide simple, user-friendly URLs for your website. 
Provide features that can be expanded to accommodate additional functions in the future.
Design and Develop custom themes for websites according to the businesses branding.
Customize the website in terms of appearance, placement, and general layout.
Upgrade the websites to conform to available improvements as well as schedule updates.
Let's Join Forces To Create An Exceptional User Experience On Your Website!
Talk To Our Experts - Call Us: (818) 495-5958
Or Click Here to Learn More