BJE LA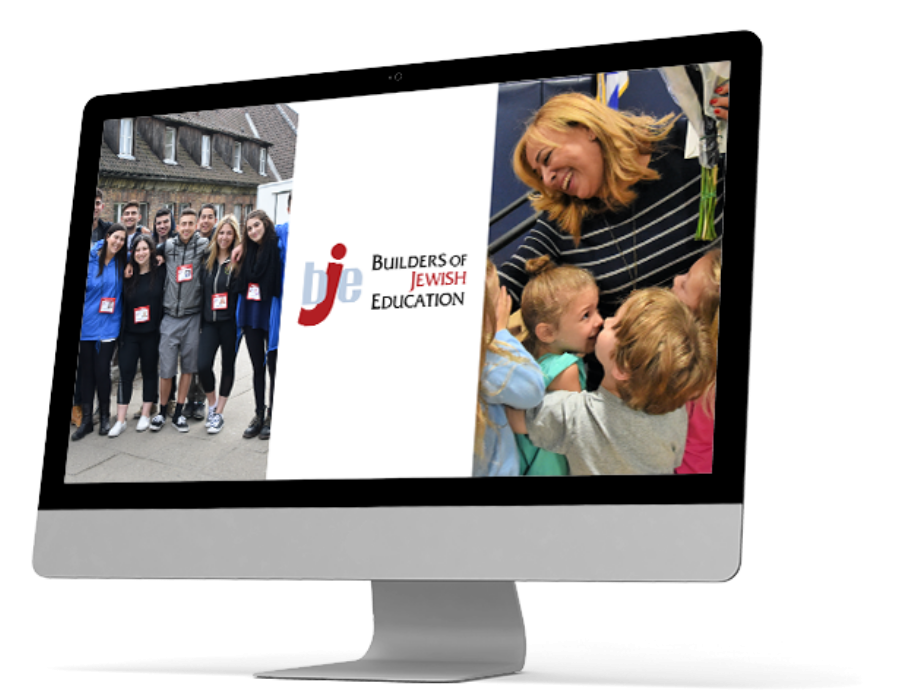 The Builders Of Jewish Education Los Angeles (BJELA) provides Jewish experiences for Children, Families, and Educators. BJE: Builders of Jewish Education is an independent, donor-supported organization. BJE provides meaningful Jewish experiences for children, families, and educators, and supports high-quality Jewish education across the full Jewish religious and cultural spectrum, throughout greater Los Angeles. BJE works with families and Jewish educators to help children grow deep Jewish roots based on Jewish knowledge and values.
Services Provided
Website Design & Development
Custom Drupal Development
Challenge 1: Drupal 7 Approaching End of Life and Merging Two Brands
Note: this project was completed before Drupal's announcement that Drupal 7 would be extended through November 2023
Drupal 7 will be over a decade old in November 2022. The internet was a very different place when D7 was released. Newer versions of Drupal, like D9, are built on top of Symfony, which will make future migrations easier. They use more modern object-oriented programming or OOP.
People have started to notice certain flaws as Drupal 7 has gotten older, like how server-intensive it is. New versions of Drupal are built for the way people access content today. Migrating out of D7 is a lot of work, but by migrating, you hopefully will get a CMS that better serves you and your users' needs.
BJE LA  approached 95Visual with a Drupal 7 website that was expected to reach End of Life in November 2022. The previous web provider they had worked with was no longer supporting Drupal and could not assist them in migrating to Drupal 9, so leadership chose to upgrade to D9 with a website rebuild. As part of the upgrade/rebuild process, BJE decided to redesign the site as well.
95Visual has helped many other clients just like BJE migrate from Drupal 7 to Drupal 8 or Drupal 9. For more detail on the migration check out this blog post by James our Sr. DevOps.
Challenge 2: Merging Two Organizations Into a Future Website
In addition to their mission and responsibilities in BJE LA, the organization oversees JKidLA. JKidLA is a web resource of BJE, in partnership with the Jewish Federation. Launched in 2006, this website is designed to provide one place for families to get a comprehensive listing of the countless formal and informal Jewish educational opportunities and resources in greater Los Angeles. The two branches of the organization, before this project, have functioned on separate websites with distinct branding differences so the next challenge for 95Visual would be to create a cohesive experience for users exploring what both BJE and JKid have to offer.
Challenge 3: ADA Compliance
The final challenge BJE LA brought to the initial stages was to ensure the new website was ADA-compliant while staying within their brand guidelines and creating a cohesive experience for their community. 95Visual is highly experienced in ADA-compliant designs and development; our team stays up-to-date on ADA guidelines to ensure our clients are in good standing.
The client's overall goal, in addition to the above-mentioned challenges, was to gain a clean and easy-to-use website on an up-to-date version of Drupal.
In the discovery and kickoff phases of the project, 95Visual evaluated the challenges and worked with the client to set measurable goals. This allowed 95Visual to create a design that showcases the unique qualities and branding of both BJE and JKid LA in one cohesive design.
Accessibility, modern design, and ease of navigation were all user-facing improvement goals for this project. In addition, the website needed to be easy to edit for content editors, consistent in terms of font and colors and uses relevant images and minimal text to identify programs and services.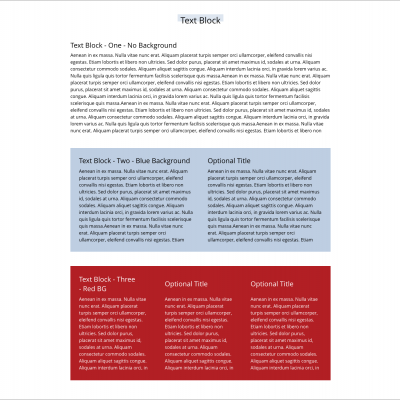 "Paragraphs" modular system
With all content available on BJE LA and all the content they plan to add, it was crucial to make the functionality of adding content, simplified and easier. From this need, we at 95Visual added in our Paragraph system which allows for quick adding in of content and management of it afterwards.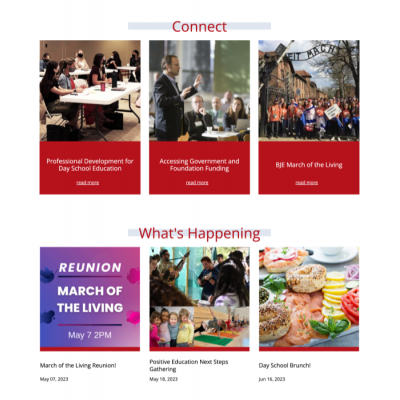 Connect & Program Highlights
Here we can see excerpts from the homepage consisting two important elements: "Connect" & "What's Happening". Both of these elements are needed for the users of the site so that they can stay up-to-date with many of the ongoings that BJE LA offers.
Our senior designer accomplished the client's design goals and create solutions for the challenges set up at the project kickoff. The result was a Drupal 9 website with a modern design and streamlined look, tone, and feel. The design for BJE LA was created in consideration of having two functioning organizations on one content management system (CMS). In this unique use case, the content blocks for both would be the same but the options for how each section of the respective site would create a unique look that is different from each other. To do this, each section was created with that "site's" branding in mind and layering that on top of the building blocks that we place into the CMS. Building the site would be very streamlined for the website manager and still allow for the unique look mentioned previously for both sites. Overall, the goal was to create a straightforward & optimized look for BJE LA and the sister site, JKid LA, to keep that same idea but also to add some fun with the colors available from its branding. As part of the development phase, 95Visual implemented multiple levels of author access for better security control.
Stage 1 of this project is complete and 95Visual is currently in development of stage 2: integrating the JKid LA site along with SalesForce. Stay tuned for updates and to see the complete solution in 2022.